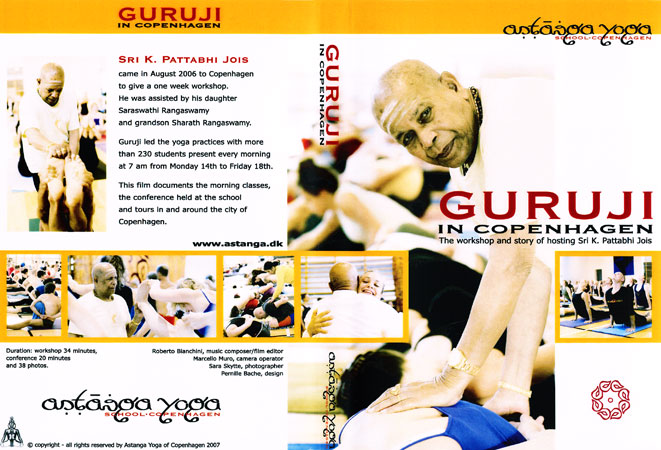 Guruji in Copenhagen DVD (PAL format)
The workshop and story of hosting Sri K. Pattabhi Jois
Produced by: Astanga Yoga School of Copenhagen
Format: PAL (Note: You need to be in a country with PAL TV format to view this disc. Some DVD PC software and hardware can play both NTSC and PAL videos; check your system to confirm before purchasing this disc.)台灣是NTSC格式
Region: All regions
Language: English
Number of Discs: 1
DVD Release Date: August 2007
Run Time: 60 minutes
A message from the producers:
This documentary film follows Sri K. Pattabhi Jois and his yogic family, Sharath Rangaswamy and Saraswathi Rangaswamy, as they teach a five-day workshop on their first visit to Copenhagen in August 2006.
More than 350 students from much of Europe came to meet them--many for the first time.
The DVD contains 3 parts--the workshop (34 minutes), conference (20 minutes) and a 38-photo slide show, with music by Roberto Bianchini composed especially for this film.In the making of the film we have tried to capture Guruji's glowing charisma which embraced everyone through his love and dedication to teaching Astanga yoga to all of his students in Copenhagen.
He created a very special atmosphere of respect and gratefulness starting each morning class by calling everyone to attention for the mantra.
His strong voice guided us through the practice, asana by asana, vinyasa by vinyasa, in synchronized movements, breaths and harmony.
During conference in the yoga shala, Guruji told the story of how yoga was given by the gods to the people living in ancient India and how to live a good life with yoga.
Guruji's presence was so strong; we all felt that he had blessed our young community of Astangis in Denmark.
Throughout the week Marcello Muro filmed the classes, events and all of the smaller preparations.
During editing Roberto Bianchini decided to include these preparations in the documentary to show everybody's excitement about hosting Sri K. Pattabhi Jois.
Also included are comments by Lino Miele, Susanna Finocchi and Jens Bache telling the story of Astanga yoga in Copenhagen with love and respect for Guruji and his teaching.
The film was finished in May 2007.
We brought it to Guruji in Mysore on his 92nd birthday in July 2007.
He received us with a big smile and said, "Copenhagen is good!"
We were so happy to see him healthy and felt blessed that he was our Guru.
We hope Guruji, Sharath and Saraswathi will come back to Copenhagen in August 2008.
Namaste,Susanna Finocchi and Jens BacheAstanga Yoga School of Copenhagenwww.astanga.dk
詳